This broccoli has a bit of a Chinese twist! Sesame Oven Roasted Broccoli is flavored with a sesame sauce that is delicious. And, there is a gluten free version below. Definitely a winner of a broccoli recipe!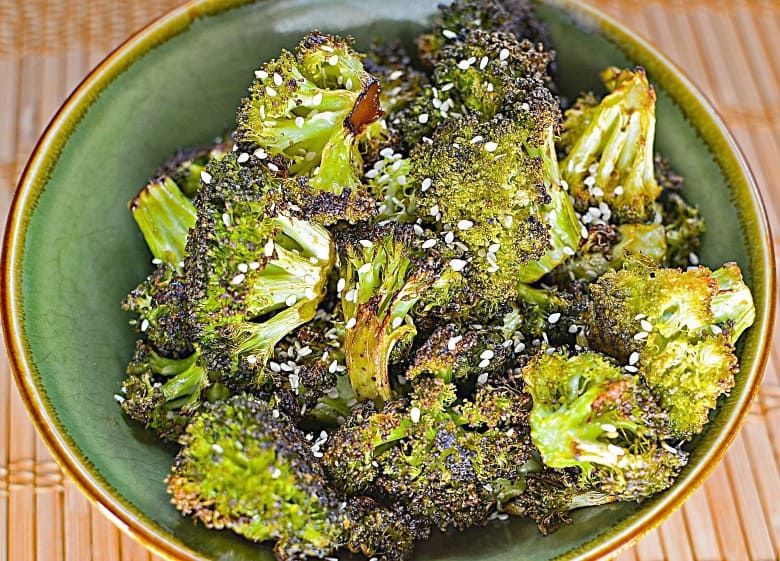 For those of you who are gluten free, you can still enjoy this oven roasted broccoli recipe. Substitute liquid aminos for the soy sauce and enjoy the great flavor without the gluten!
I know, many don't like broccoli but with the sesame sauce of this oven roasted broccoli recipe, I think even the toughest opponent will be converted!
After all, think of them as little trees that you get to eat. At least, that works to get my children to eat up their broccoli!
Sesame Oven Roasted Broccoli Step by Step
Preheat the oven to 400, place the broccoli florets.
In a small bowl, mix together the soy sauce, oil and spices. Pour the sauce over the broccoli, and mix well to distribute the sauce evenly. Photo 1
Place seasoned broccoli onto a parchment lined baking sheet. Photo 2
Roast in the oven for 20 – 25 minutes. Keep an eye on it so it doesn't burn, but you'll want a nice darker, roasted color on the broccoli. Photo 3
Remove from the oven and let cool slightly, and garnish with some sesame seeds before serving. Photo 4
Tips for Making Sesame Oven Roasted Broccoli
Frozen broccoli may be used – thaw first.
Gluten free version: Use Liquid aminos instead of soy sauce.
There is no added salt in this recipe because of the soy sauce – feel free to adjust to your taste.
Can This Be an Oven Roasted Broccolini?
Yes, if you have broccolini available to you, by all means use it – it is delicious! In fact, broccolini is best when cooked and an oven roasted recipe is perfect!
What is the Difference Between Broccoli and Broccolini?
Broccoli and Broccolini, along with Chinese broccoli, are all part of the cabbage family and are cruciferous vegetables.
Broccoli can be eaten raw or cooked and has florets atop long crisp stalks. It will produce small yellow flowers that are also edible. It has a earthy and sometimes sweeter taste than broccolini.
If you've tried this OVEN ROASTED BROCCOLI or any other recipe on Cultured Palate please take a minute to rate the recipe and leave a comment letting me know how you liked it. I love hearing from you! You can also FOLLOW ME on PINTEREST, FACEBOOK, INSTAGRAM, YouTube and TWITTER.
Are You a Broccoli Fan?
If So, What is Your Favorite Way to Eat It?
Pin It!