Bible Writing is a great way to refresh and energize your spirit. The scripture writing verses for June focus on God's blessings. What better way to cultivate a thankful spirit than by realizing how blessed we are?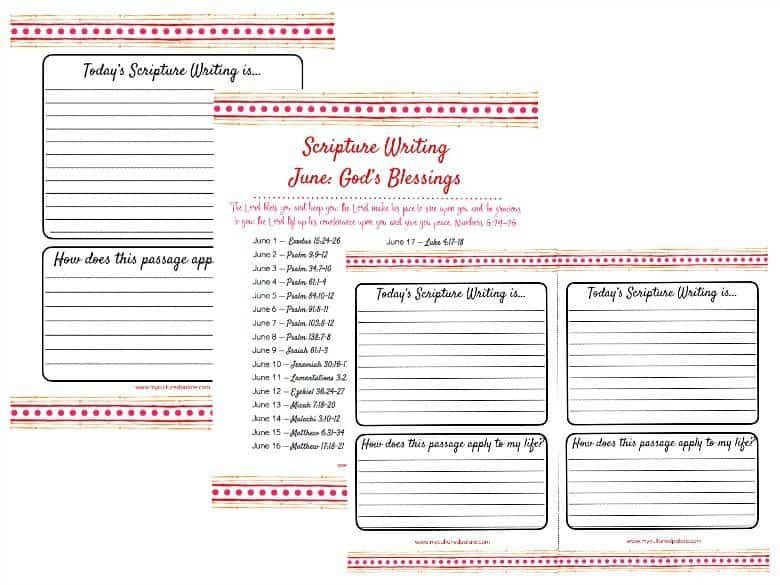 Never heard of Bible Writing?
If you are not familiar with this type of Bible study plan, it is designed to get you into the Bible and actually writing verses. Therefore, some call it Scripture Writing.
This month's theme is God's blessings and you get a different verse or verses to write each day. The scripture writing verses for each day are designed to take no more than 10 minutes. But, of course, you can spend longer if you want to!
What you get with this month's Bible Writing
You will receive the verses for each day of the month along with coordinating lined paper to print for a 3 ring binder. There are 2 ways to print the lined paper, full page or half pages for use in smaller notebooks.
Both have space for writing your thoughts about the verses and how they apply to your life. The lined half pages print two to a page so you can cut them in half and use in a smaller 3 ring binder notebook. You can see the small notebook I use here.
Bible Writing for a Whole Year!
You may find it more convenient to have 1 FULL YEAR of Scripture Writing Prompts. Both sets have different verses for each month: Binder Vol. 1 and Binder Vol 2.
You also receive a cover and 3 size options for spines to use with your binder. As a bonus, with each set, you receive a Prayer List printable and two different Bible reading plans.
What is  your favorite part of Scripture Writing?