The Fruit of the Spirit Coloring Pages Set gives you 9 different designs to have fun with and color. What better way to color, than while focusing on the character qualities that Christians should possess?
The Fruit of the Spirit Coloring Pages set is taken from Galatians 5:22-23 which says, "22 But the fruit of the Spirit is love, joy, peace, patience, kindness, goodness, faithfulness, 23 gentleness, self-control; against such things there is no law."
Thought Provoking Coloring Pages
As Christians, we are all to be living our lives in such a way so as to bring glory to God - in a way that pleases Him. The fruit of the spirit are tangible character qualities that can be seen in our lives. These indicate that we are indeed living a life pleasing to God.
Some like to say, "bearing fruit" and they are talking about the fruit of the spirit or the character qualities seen in the verses above. These qualities should be evident in the lives of believers.
I have found that a great way to focus on and even memorize verses is through coloring.
Have you discovered coloring yet? If not, turns out that kids have it right - coloring is relaxing and lots of fun! Use crayons, coloring pencils or markers - the point is to start coloring and have fun while you encourage your spirit.
If you haven't guessed, I love coloring. And, you will see quite a few more coloring pages sets for both adults and kids in the near future. I normally color with my 9 year old but often, some others join in the fun.
Fruit of the Spirit Coloring Pages Set - What's Included
Each of the 9 coloring sheets in the Fruit of the Spirit coloring pages collection features a different fruit. Talk about fun! Imagine all the fun colors you can do, especially in the border of each of these pages.
The Fruit of the Spirit set is just one of the inspirational and uplifting coloring pages sets in the Cultured Palate store. Be sure to take a look around! There are sets with Bible verses, catchy sayings and even monograms to color and alphabet sets for children.
Not Just for Children!
Don't be fooled when I say, "for children". The alphabet coloring pages set is just as much fun for adults as it is for children!
You know, when I first began the coloring pages, I was thinking adult coloring pages. But, as I realized the fun my children and I have coloring together, I began to realize that everyone loves to color.
So, whether it is for yourself or for children, let's have fun as we focus on the character qualities that we should all, as Christians, be exhibiting.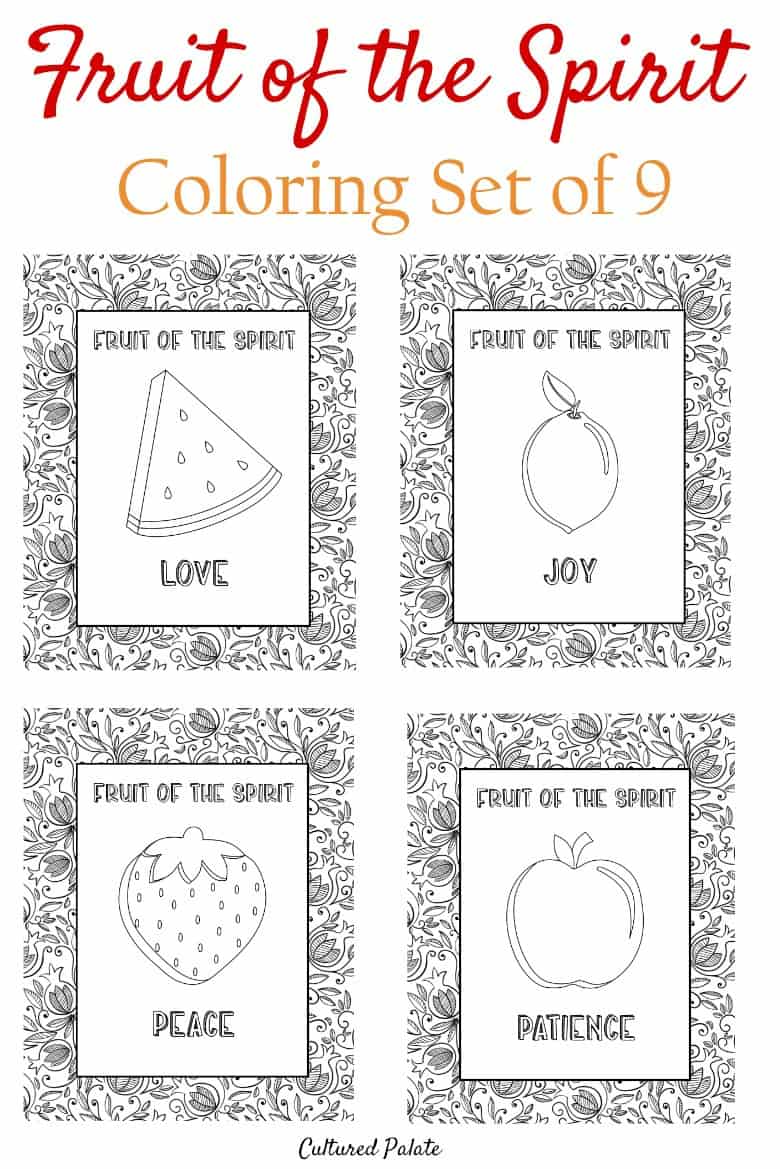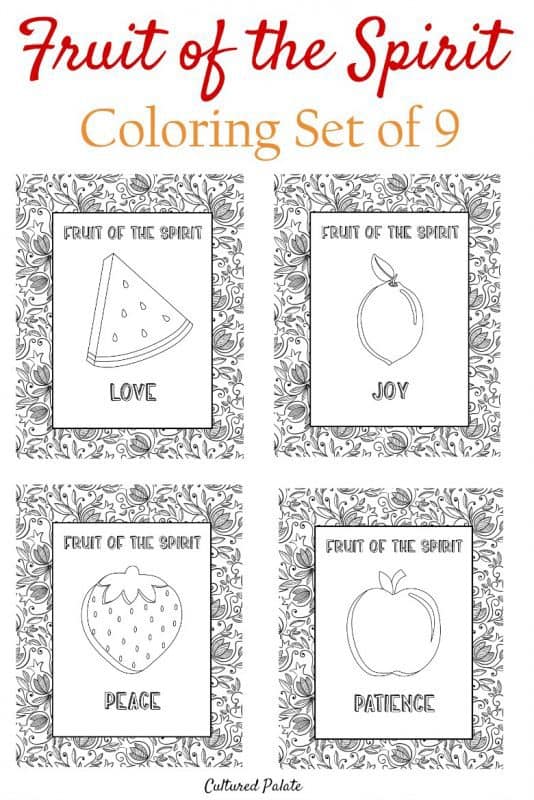 Looking for other unique coloring sheets? Check out my Printables Shop!
Have you tried coloring yet? What do you like to color?