I love lasagna!
And, do you what is better than plain lasagna?
Eggplant Lasagna.
I am confidant that  the following Easy Eggplant Lasagna Recipe is sure to become your new family favorite – it is ours!
Why? Well, number one – it tastes great! And, number two, like the name says, it is easy!
Really, who doesn't like lasagna?
Think Garfield and his great admiration for Lasagna. Plus, Easy Eggplant Lasagna is gluten free!
For years, my go-to lasagna recipe has been Spinach Lasagna, but one vegetable that our garden produces abundantly is eggplant. In an effort to be creative, I began using eggplant in place of the noodles – and, it is delicious! So now, the eggplant dish of choice coming from my kitchen is Eggplant Lasagna. Oh, I still use spinach in the filling sometimes, and sometimes I don't.
One thing I do always add, and that is meat from our recently butchered cow. Don't worry if you are vegetarian though, just leave the meat out – this Easy Eggplant Lasagna will be delicious!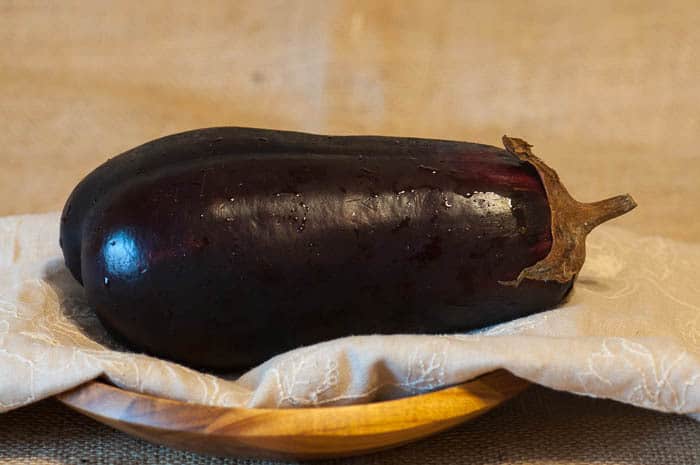 I normally do not peel my eggplant if I am using fresh. But, when eggplant is pouring out of the garden, I wash, peel, slice and freeze it. I did not always peel it, after all, why add another step to the processing. The result, was a freezer full of eggplant with tough skin! For some reason, after freezing, the eggplant skin gets tough and does not become tender with cooking. So, now I take the extra time and peel it – it is so much more enjoyable to eat!
While many Eggplant Lasagna recipes call for roasting the eggplant slices first (which I give instructions for below), I normally boil mine. Being basically lazy, I have even tried placing the thawed eggplant slices into the dish without cooking and just allow them to cook with the lasagna. If the eggplant was very young and tender this works but otherwise, it tends to be a bit under-cooked. So now, I cook the eggplant first and then assemble the lasagna.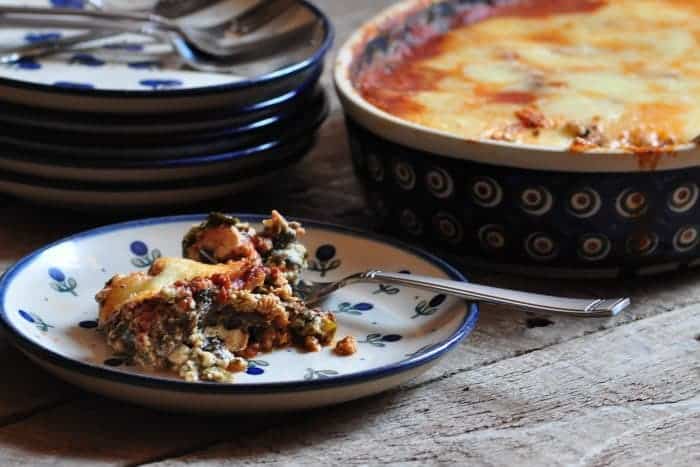 Which brings me to the point of preparing each layer and then assembling the Eggplant Lasagna into the final dish. My preparation looks like this: First I season tomato sauce with Italian spices. This is much more economical for a large family than jars of ready-made tomato sauce – and only the ingredients I choose go into it! But, feel free to substitute ready made tomato/spaghetti sauce.While simmering the sauce, I also begin water boiling and cook the eggplant. Finally, while the eggplant is cooking, I prepare the filling. Now comes the fun part – putting it all together to make that beautiful dish of Easy Eggplant Lasagna!
Eggplant Lasagna
Yield 6 - 8 servings
Ingredients
2 - 3 eggplants, depending upon sizePeel the eggplant (or not - your choice) and slice lengthwise in 3/4 inch slices.
Cook eggplant:
To Boil: Cook eggplant slices until tender in boiling water.
To roast: Place eggplant slices in a single layer on cookie sheets. Brush lightly with olive oil, sprinkle with salt and pepper and bake at 400F for 10 minutes. Turn slices over and bake for another 10 minutes or until golden brown and tender.
Filling
2 lbs Ricotta Cheese - Make Your Own- Homemade Ricotta
3 eggs
2 - 10 oz pkgs frozen chopped spinach, optional
1 tsp garlic powder (where to buy spices)
1 tsp salt (where to buy REAL salt)Combine all ingredients in a bowl and set aside.
Tomato Sauce
1 - 32 oz jar of spaghetti sauce
OR
32 oz can tomato sauce
1 lb ground beef
2 onions, chopped
4 cloves garlic, minced
2 Tbsp oregano
2 Tbsp basil
6 Tbsp olive oil
1/2 tsp salt

***I buy all my spices from my affiliate partner, Starwest Botanicals, because of their superior quality. Their herbs & spices are organic, non-irradiated plus, I think they are more aromatic and full flavored than any others.

In a medium saucepan, heat oil and saute onions and garlic until tender. Add ground beef and continue to stir until browned. Add the remaining ingredients, reduce heat and simmer for 15 - 20 minutes. Adjust spices to taste.
Instructions
In a greased 13 x 9 pan, starting with a bit of tomato sauce in the bottom to prevent sticking, layer:
Eggplant Slices
Filling
Tomato Sauce
Mozzarella Cheese - Make your own - Homemade Mozzarella
In that order!
Be sure to end with Mozzarella Cheese.
Bake at 350F for 1 hour.
Enjoy!
Notes
Vegetarian Variation: Leave the ground beef out and be sure to use the spinach - continue with the recipe.
Related posts: