Like Cocoons, this sugar cookie recipe is a holiday tradition.
Now, I am sure most people have a favorite sugar cookie recipe so, why would you need mine? Well, one bite (OK, two then) says it all!
Well, just in case you don't have a sugar cookie recipe- here is our family's recipe which I obtained from John's mother. She made sugar cookies every Christmas. They were a real tradition around their home and I have continued the tradition with my children.
I usually quadruple the sugar cookie recipe and divide the dough into balls so that each child will have their own ball of sugar cookie dough to roll out and decorate. Even the older children still at home want their turn! As you can see, they get really creative and even do multi-colored sugar cookies!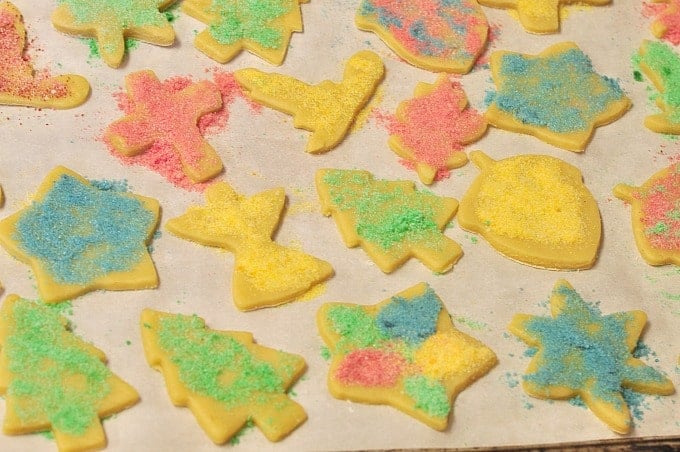 I love traditions that you never outgrow! There is just something about fitting the cookie cutters on the dough, placing them on the pan, sprinkling them with colored sugar and then of course, eating them because you know those were YOUR sugar cookies!
In the following recipe, I have linked to products from my affiliate partners that I personally use and recommend.
Sugar Cookies
Instructions
Cream together the butter and sugar until light and fluffy.
Add and beat the egg and vanilla.
Combine the flour and salt together.
Add to the butter, sugar, egg and vanilla and mix well.
Chill the dough for 3 - 4 hours before rolling it out. We usually refrigerate it overnight.
Preheat oven to 350F.
Flour area to be used for rolling out the cookies. Use as little flour as possible to prevent dry cookies.
Place dough on floured area and roll to 1/4 inch thickness. Again, use flour to prevent sticking during rolling, but as little as possible.
Cut into desired shapes.
Decorate with colored sugar or as desired.
Place cookies on greased cookie sheet
Bake at 350F for 10 -12 minutes or until firm.
Decorate as desired - Enjoy!
Related posts: