Once you learn how to roast vegetables with or without oil, I know you are gonna love them because they are so easy and healthy! Roasted vegetables fit into any real food diet including the GAPS diet, Paleo, Keto and AIP.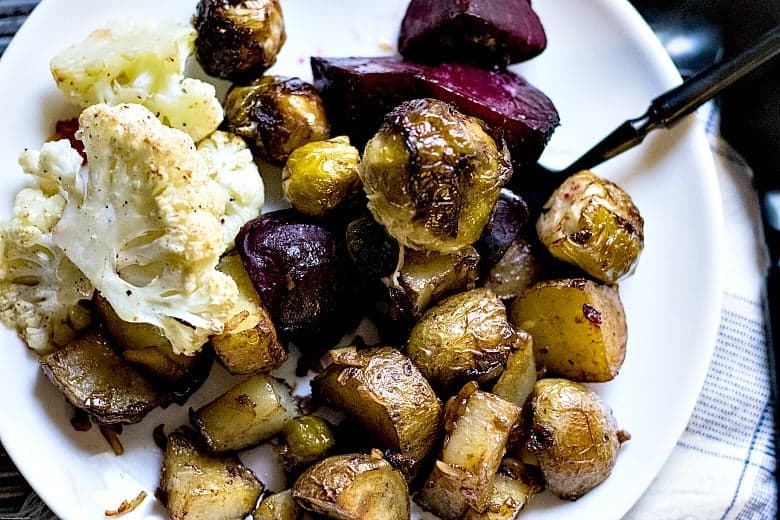 This is an easy large sheet pan vegetable dish to prep and pop in and out of the oven while preparing the main dish.
Why Learn How to Roast Vegetables?
The flavor is intensified during the roasting process and they are just plain yummy!
Roasted vegetables are GAPS diet legal, Paleo friendly, low carb and also allowed on the Keto and AIP diets.
Roasted vegetables are really allowed on any real food diet just be sure to select vegetables appropriate to your diet.
This tutorial is to teach you how to roast vegetables - any vegetables. Once you try it, I am confident that you will begin experimenting with different vegetable mixes.
The vegetables I normally have on hand depend on the season - more about that in a minute.
Suggested Vegetables To Roast
When it comes to which vegetables to roast, don't be afraid to try new combinations - it'll taste great!
Asparagus - see Oven Roasted Asparagus with Parmesan for a delicious treat!
Beets
Bell peppers
Broccoli
Brussels sprouts
Cabbage
Carrots
Cauliflower
Eggplant
Fennel
Garlic
Onions
Parsnip
Potatoes (regular and sweet)
Squash - yellow summer and zucchini are some of my faves!
Turnip root
As you can see, the possibilities are endless!
How to Roast Vegetables - 2 Methods
Roasting vegetables can be done in the oven or on the grill. I am a seasonal person because during the winter I use the oven and tend to use root vegetables like potatoes, carrots, Brussel sprouts, beets...
But, during the summer, in an effort to keep the kitchen cool, I love roasting vegetables outdoors on the grill and tend to roast fresh from our garden produce.
For more on roasting vegetables on the grill, check out Grilled Summer Squash.
To ensure the vegetables are done to the same consistency, baking in the order given is important.
Tips for Roasting Different Vegetables
Add vegetables to the same baking pans according to their required cook time.
Root vegetables like carrots, beets, carrots, turnip, tend to take longer to roast (up to 45 minutes). Be sure to group these veggies together so they finish about the same time.
Other vegetables like onions, garlic, and cruciferous vegetables (cauliflower, broccoli, cabbage), don't require as much time to cook. They take about 25 minutes so, I like to put all these on a pan together.
How to Roast Vegetables in the Oven
While you can see the specific steps in the recipe below, I thought I would give the basics of roasted vegetables because they work for any vegetable you want to roast.
Roasting requires a hot oven. So, preheat the oven to 400F.
Clean the vegetables and cut into chunky bite sized pieces.
Toss the veggies liberally with olive oil to coat or you can also spritz them. Sprinkle with salt, pepper, garlic powder or other seasonings.
Spread vegetables in shallow baking dish. Stir frequently. Bake for 30 mins - 1 hour or until tender and golden. The cooking time depends on the vegetables and the size of the pieces.
See the recipe for details for this veggie combination.
Serve and Enjoy!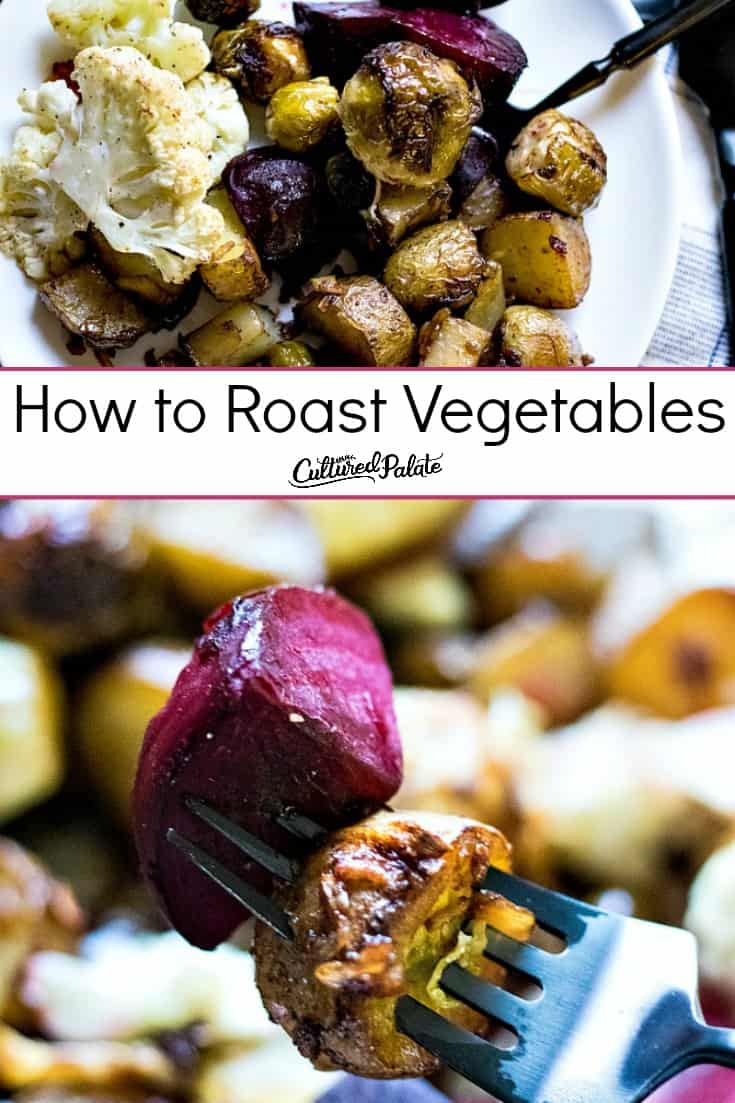 If you've tried this tutorial for How to Roast Vegetables or any other recipe on Cultured Palate please take a minute to rate the recipe and leave a comment letting me know how you liked it. I love hearing from you! You can also FOLLOW ME on PINTEREST, FACEBOOK, INSTAGRAM, YouTube and TWITTER.
📋 Recipe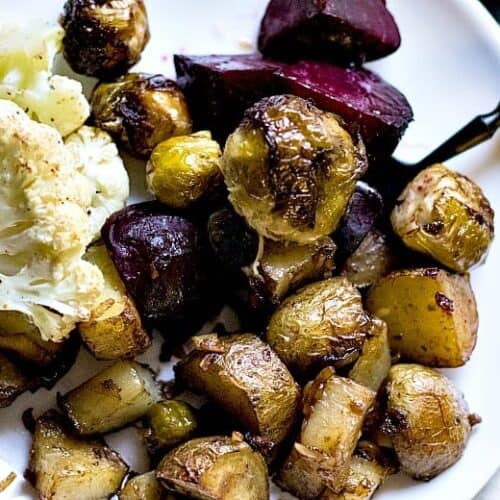 How to Roast Vegetables
Cultured Palate
Roasting vegetables brings out a true sweetness and flavor that is sure to please!
Time: 1 hr 45 minutes

Ingredients
8

medium purple potatoes

(12 small, 8 medium, or 5 large) cut into bite size pieces

4

medium beets

½

head cauliflower

cut up

1

bag of Brussel sprouts

cut ends and peel outer leaves

¼

cup

olive oil

½

teaspoons

salt

½

teaspoons

pepper

½

teaspoons

garlic powder
Instructions
Cut the potatoes and cauliflower, and peel brussel sprouts.

Cut ends off beets, wrap in foil and place on baking sheet. Drizzle the cut potatoes with ⅛ c. olive oil and place on baking sheet.

Bake the beets and potatoes for 25 mins.

To save time, also cook the Brussel sprouts on a separate baking sheet. See instructions below.

Remove beets from oven, carefully unwrap, and set aside to cool for a few minutes. To easily remove the outer skin from beets, rub with paper towel. *wearing kitchen gloves will save fingers from becoming stained with beet juice.

Add cauliflower and Brussel sprouts to two separate bowls.

Toss the Brussel sprouts with ½ of the remaining olive oil.

Place Brussel sprouts on sheet pan and bake at 400° for 25 minutes.

While Brussel sprouts are cooking, toss the Cauliflower with remaining olive oil, salt, pepper, and garlic powder.

After the Brussel sprouts have cooked for 25 mins, add the cauliflower, beets, and potatoes to the sheet pan and bake all vegetables an additional 25 minutes or until fork tender. Adjust spices to taste.
Notes
1 envelope store bought onion soup mix can also be used for seasoning. Add to vegetables before putting in the oven.
Other roasted vegetable suggestions:
carrots
asparagus
broccoli
Nutrition
Calories:
165
kcal
Carbohydrates:
15
g
Protein:
3
g
Fat:
11
g
Saturated Fat:
2
g
Sodium:
304
mg
Potassium:
528
mg
Fiber:
4
g
Sugar:
6
g
Vitamin A:
50
IU
Vitamin C:
40.2
mg
Calcium:
27
mg
Iron:
1.1
mg
What are Your Favorite Roasted Vegetables? Do You Use the Oven or Grill?
Leave a comment, I would love to know!
Pin It!