Sautéed Green Beans With Garlic is a delicious recipe with fresh green beans and fresh garlic! Served slightly crisp they are a family favorite!
I love green beans fresh from the garden!
In fact, I like to eat them raw, right after picking and so do my children! Keep reading to discover WHY eating raw green beans is actually good for you.
We like them small, tender and crunchy! I know it's not the most appropriate way to eat green beans. They should be prepared with butter and oil and all that good stuff!
But I have to admit, I love the taste of vegetables straight from the source.
Normally, I freeze any extra green beans to have later in the year. So far this year, the bean plants are doing well and I am looking forward to freezing them!
I use a large cast iron skillet to make Sautéed Green Beans With Garlic.
Because, I cook so many at a time, I use my 17-Inch Cast Iron Skillet for this recipe. I cook them as if I were stir-frying using lots of butter.
A Quick Tip For Making Sautéed Green Beans With Garlic
For the Paleo version - use ghee instead of butter.
In the following recipe be sure not to cook the green beans too long - they are best when still slightly crisp!
Use plenty of butter (or ghee) - not only does it make them taste even better, but it also prevents sticking.
Feel free to use more garlic if you dare!
Can I Use French Green Beans?
Yes, French green beans works well for this recipe.
Can I Use Canned Green Beans for This Recipe?
Yes, but do not cook them long. You will just be warming them in a skillet and allowing the flavors to meld and combine.

What do Green Beans do for Your Body?
Now that you know how delicious green beans can be, you may be wondering what they can do for your body. Don't worry, green beans are very healthy for you.
One of the best health benefits of green beans is that they have folate in them. Folate is a B vitamin that everyone needs more of.
Green beans also have protein, iron, and zinc in them. You can't beat the vitamins and minerals you get from green beans!
Should I Eat Raw Green Beans?
Like I mentioned before, I love eating veggies straight from the garden, especially green beans. I'd say that if you love eating raw green beans go for it.
When you cook green beans, you actually remove some of the nutrients in them. Green beans are also low in calories, so this is a win-win if you're on a low carb diet.
Is it OKAY to Eat Green Beans Every Single Day?
I could think of a lot worse foods to eat every single day. As I mentioned, green beans are full of minerals and vitamins. Also, green beans are heart healthy and naturally low in sodium.
If you want and desire, then eat as many green beans as you possibly can. If you are looking to lose some weight, then green beans are a great low calorie vegetable that is full of fiber!
Are Green Beans a Super Food?
You may be wondering if green beans are a super food. The answer is YES! Green beans are rich in Vitamins A, C, and K! Plus, they're full of fiber.
If you're looking for help intaking in more super foods, then you will be happy to know all of this about green beans.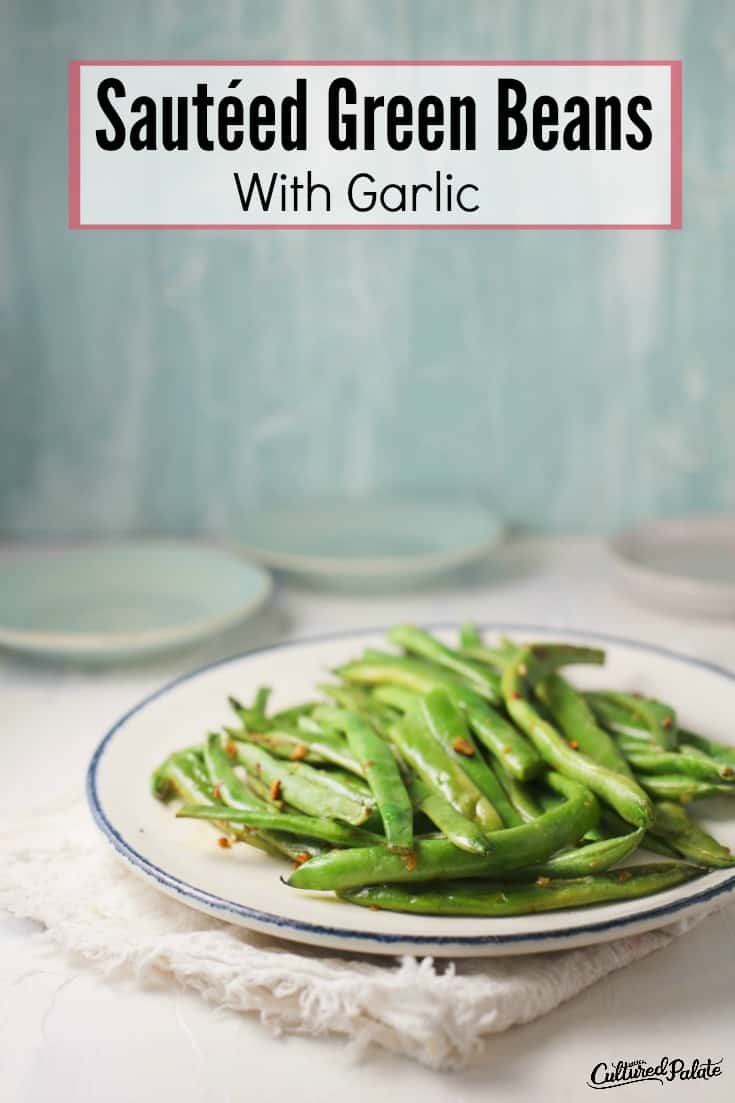 If you've tried these Sautéed Green Beans With Garlic or any other recipe on Cultured Palate please take a minute to rate the recipe and leave a comment letting me know how you liked it. I love hearing from you! You can also FOLLOW ME on PINTEREST, FACEBOOK, INSTAGRAM, YouTube and TWITTER.
📋 Recipe
Sautéed Green Beans With Garlic
Cultured Palate
The perfect side dish, it has just enough flavor to let your main dish shine.
Ingredients
1 ½

lbs

fresh green beans

4

tablespoons

butter

or ghee

4 -6

large cloves garlic

minced
Instructions
Heat butter or ghee in a frying pan.

Add the minced garlic and saute.

Green beans go in next. Stir-fry until just tender.

Stir in additional butter/oil if needed.

Salt to taste Serve hot and enjoy!
Notes
Be sure not to cook the green beans too long - they are best when still slightly crisp!
Feel free to add more garlic if you dare!
Adding more butter adds more taste and prevents sticking.
Nutrition
Calories:
141
kcal
Carbohydrates:
9
g
Protein:
2
g
Fat:
11
g
Saturated Fat:
1
g
Sodium:
8
mg
Potassium:
287
mg
Fiber:
3
g
Sugar:
4
g
Vitamin A:
940
IU
Vitamin C:
16.6
mg
Calcium:
50
mg
Iron:
1.5
mg
Do you like green beans? How do you prefer to cook yours?
Tell us all about it in the comments!
Pin It!